Hello there!
Today's post is reaaaaaaaaaaally interesting!
It's a step by step guide on How To Annoy Your Friends!
**DISCLAIMER** I designed this "guide" myself!
1. Choose a victim
Choose someone that won't get mad if you annoy them, so that you won't get into trouble. It's even better if you have a friend who annoyed you first, so that you can get revenge. However, if there's only one friend around and that person is sensitive, don't annoy them or into the doghouse you will go. It isn't worth the trouble.
2. Choose what annoying thing you want to do.
(Here are a few of my personal ideas taken from experience)
(a) Morning Call:  If that particular friend is still asleep and you are wide awake with nothing to do, cover them with blankets, and pillows. The movement and noise you are causing should already wake them up. Then after you're done, one by one take all the pillows away and whack each one on your sleepy friend's head. But if they are really heavy sleepers, you can jump on them and sing in a really high voice. When they still can't wake up, they might be faking.
(b) Annoying Songs: start singing songs that annoy them, like PPAP. This always works, especially if you sing in a high and out of tune voice.
(c) The Prank: You can use the basic pie in the face prank, or you can replace it with shaving cream sprayed onto a piece of cardboard. Quietly sneak up on your friend while he or she is busy talking, and tap them on their shoulder with your free hand. The second they turn around, slam the cardboard of shaving cream in their faces. Then right after that, run away or they might wipe some off their face and smear your face with shaving cream as well. The best time to do this is when there is hardly any water around, or when the toilet is really far away. Just bear in mind that shaving cream burns if left on bare skin for too long, so keep a clean cloth handy.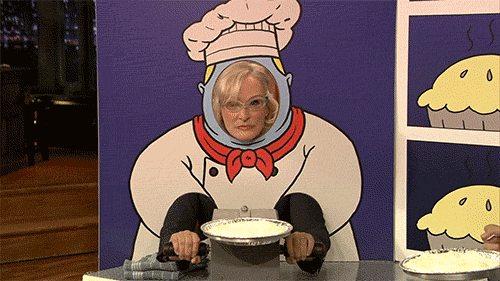 3. Be Alert
Your friend might want revenge after you annoy them so watch out if they are super protective of their bags. Especially if they seem like the "innocent" type.
---
THE END!
Now, I've been thinking about getting a divider for quite a while since the horizontal lines I use are not really visible (and they're not really nice as well)
So, please lemme know your ideas for any kind of divider design in the comments below!!!
Do you have any ideas for pranks/ how to annoy your friends? Any divider design ideas?
P.S I got 1,000 Likes on Starling! Thank you so much, likers! (my current tally is 1,010!!!)