Hello there! Wow, it's been almost a month since I did this!
Rules:
Thank the person that nominated you!
Add rules for others to follow
Add rules to the post for others to follow
Answer questions below!
Display award photo in post!
Thank you so very much, Missette for nominating me! (you must check her blog out!)
Questions:
1) Why did you start a blog in the first place?
  The countless times I've been asked this… for my studies!
2) What is your favourite Book?
Honestly, I dunno. I love all books.
3) What do you dislike the most?
 People being impolite/disrespectful.
4) What is your favourite food at the mall?
 Oh the food court…?
5) What's your favourite pass time?
     Reading, writing, blogging. Oh and sleeping!
Nominees:
(I feel like I'm always nominating Enni and Carol)
Rules:
Thank the person who tagged you.
Answer their 11 questions
Tag 11 people
Give them 11 new questions
Thanks for the nomination Hannah!
Questions:
Ice cream or cake?
Cake
Do you like camping?
Oh yes!
Do you have any siblings?
Yeap, one younger bro
Do you live in the city or the country?
City
What is your favourite colour?
Red
Do you like pizza?
OF COURSE!
Are you tired right now?
No, not really
What is your favourite book?
I really dislike this question. I don't have one!
What are you wearing right now?
A red shirt, and grey pants
What time of days is it?
3 pm
Indoors or outdoors?
Both!
Nominees:
(Sorry, I'm not good at keeping rules. Besides, WordPress is a little slow today) -_-
My Questions:
What is your ambition?
Would you like to be famous? Why or why not?
Is it morning, afternoon, or evening there right now?
What are you thankful for?
What is your favourite playground equipment?
What is your favourite fruit?
Do you like gifs?
On a scale of 1-10, rate ovens.
Favourite sport?
What is your favourite quote?
What is the reason behind your blog name?
---
Today's post is sorta short, so I wanna say a few things:
THANK YOU SO MUCH FOR 150 FOLLOWERS!!!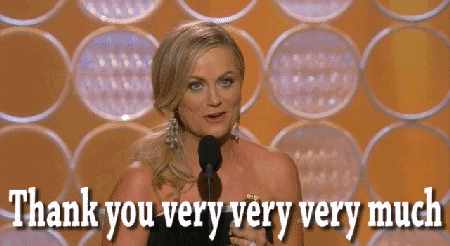 My current tally is 152! We're 48 followers away from 200! Yayyyyyy!
I Made A New Page (thought you wanted to know)
Thank You To Those Who Took My Surveys!
If you haven't taken it, it would be really helpful if you did! But if you have, thanksssss!
---
Have you taken my surveys? What's your favourite quote?
P.S Zella is gonna launch some post series thingy, so do follow her so that you will be notified once she posts it! (My piece is gonna be in it too!)